100 Reasons
Why You Should be in SVGS?


Child-friendly and safe campuses


Hygienic and sterile environments


25+ prolific years in education


GPS enabled Transport


Green cover campus


Kids Parque


Friendly Facilitators


National Boards – CBSE & State


Thinking rooms for new-age society


Global classrooms with free thinking spaces


Xperience, Xplore and Xperimental Learning


Upsilling, Reskilling and Unlearning approaches


Cooperative schooling for practical work experience


Right Brain activities in early-childhood learning


X,XI, XII State Board exam centre


Well-equipped Science Labs


Smart Boards & 3D aids


Modern Computer Lab


ATAL Tinkering Labs


Tinkerers bagging District & State Tech-contests


Mentoring by eminent scientific diaspora


S.T.E.A.M. embedded curriculum


Digital Library with 10K books


World-class auditorium


Multi-functional indoor stadium


IIT-JEE/NEET/CPT training


Design Thinking in all grades & levels


SV Sports Academy – cricket, athletics, table tennis


Venkat Natyalaya for Bharatanatyam


Sri Venkat Kalalaya for artistic pursuits


Hindi Prachar Sabha classes


Exam centre for Hindi Prachar Sabha


Innovative Teaching Methodologies


International recognition for teaching strategies


Level-wise core ideologies


Zero Hour for value acquisition


40 clubs tapping skills


'Unique Me' Clubs for KG


Committees for students' voice


Youth Leadership Program


Life Skills enrichment


Reading Program


LSRW skills enrichment


Uniformed Services


Bunnies in KG, RSP, Bharat Scouts & Guides


In-campus Ponneri District HQ – Bharath Scouts & Guides


Rashtrapathi and RajyaPuraskar awardees in Scouts & Guides


Curiosity Curriculum for KG


Daily circle time for kids


Meditation time with Silent Prayer


14 Fine Arts classes


7 After-school programs


300+ RD Parade marchers every year


Effervescent Band for TN Govt. events


Positive parental involvement


Activity Hour for emotional development


Value Based Learning


Students Case Study at transformation levels


Portfolio reflecting student cumulative efforts


Continuous & Comprehensive Evaluations


Periodical remedial interventions


District & State-rank holders in Board exams


Toastmasters International Leadership Program


Eco forums for empowering environmental behaviour


Varkey Foundation, London award to teachers


National Best Teachers award


SV Playschool for tiny tots


Day care, playgroup and toddler facilities


Organic learning for voluntary muscle memory


Activities to progress motor skills


Democratically elected Student Senate


Self-structured KG curriculum


Self-awareness – ideology in KG


Storytelling – the prime strategy


Montessorial Lab for sensorial learning


Identification creed in Pre-Primary


Organized instructions introducing school environment


Peer socialization & self-exploration


Strengthening core fundamentals in Primary


Green Corps program for Primary schoolers


Innovative teaching methodologies


Assembly and Dispersal presentations


Expos & symposiums in core streams


English, Science & Math Olympiads


Exploratory Learning in Middle & High School


Inquisitiveness embedded approach


Student Technopreneurship for young innovators


Developmental domains in cutting-edge technologies


Stream Selection – Higher Secondary philosophy


Strong Industry connects


Expert Career guidance and counselling


Festivals and celebrations for traditional values


Well-connected corporate network


Robotics for tech-savvy NexGen


Accelerated development realising Industry 4.0


Altruistic well-connected Alumni


Fostering rational thinking & responsible actions


Nurturing student autonomy


Happy Learning, EVERYDAY


Wholesome schooling for LIFE


SVPS
ADD-ON TO THE GROUP AT PUZHAL – INVITE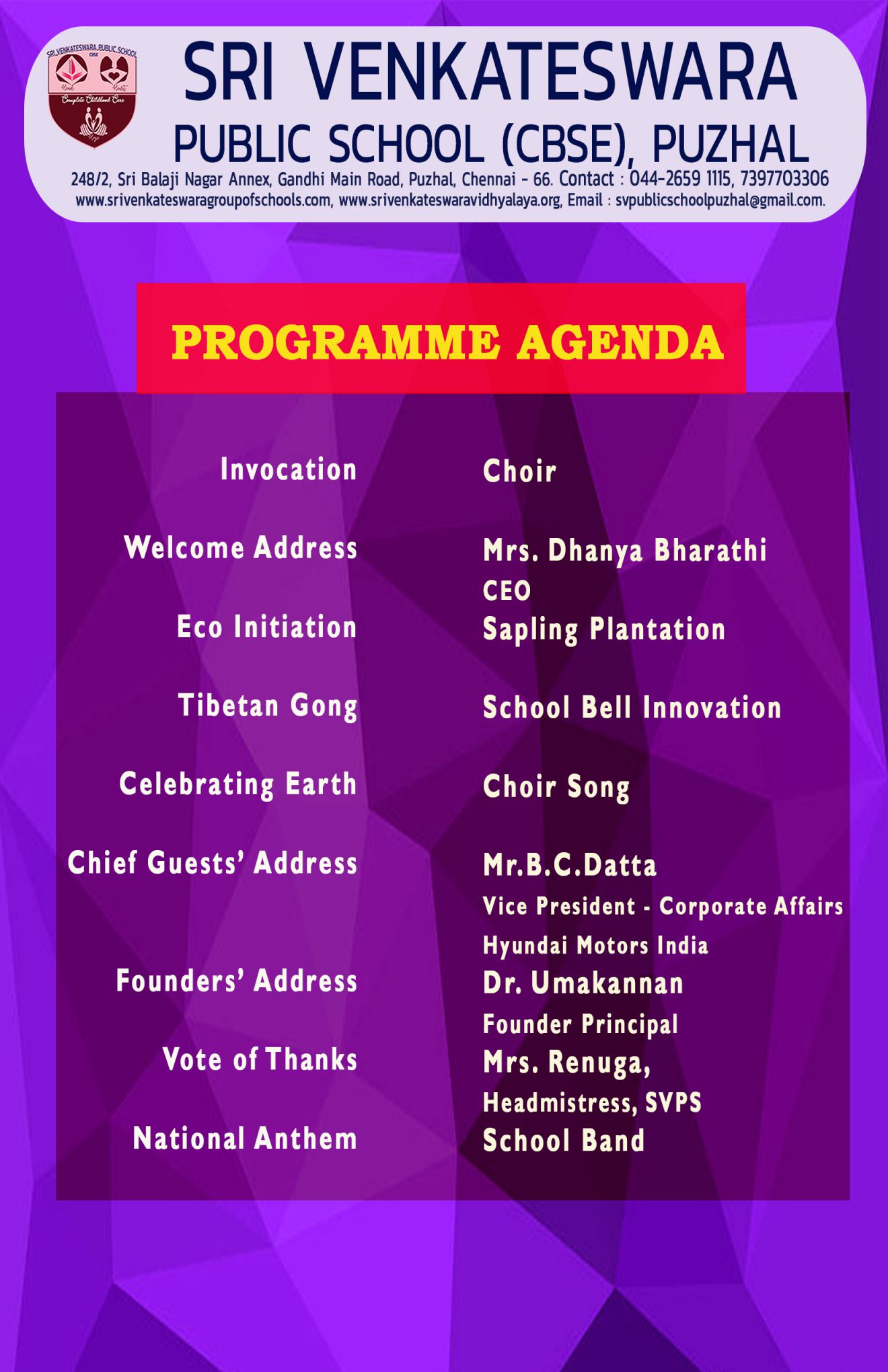 SVPS
ADD-ON TO THE GROUP AT PUZHAL – AGENDA
SVGS
SVGS THIRUVAIYARU
SVV
INVESTITURE CEREMONY
SVM
THIRU A.VENKATASAMY MEMORIAL
14th Inter-School Volleyball Tournament for Boys
SVPS
INTER-SCHOOL INDEPENDENCE DAY CONTEST 2019-20
SVV
KG SPORTS DAY
KIDDIES SPORTS MEET 2020 – VALEDICTORY CEREMONY
SVNP
KG SPORTS DAY
SUPER MINI SPORTS FEST – VALEDICTORY CEREMONY
SVNP
KG SPORTS DAY
SUPER MINI SPORTS FEST – VALEDICTORY CEREMONY – AGENDA
SVV
PARADISE @ SVV
Fun Mela for Playschools
SVV
LIBRARY WEEK – THE ATHENAEUM
SVPS
FIESTA 2020 – A SCIENCE & MATH EXPO – INVITE
SVPS
FIESTA 2020 – A SCIENCE & MATH EXPO – AGENDA
Atal Tinkering Lab established by the Central Govt. of India to promote the culture of innovation and Technopreneurship through STEAM embedded learning.
The Book Lovers Program for Schools is here on a mission to make our children become raving readers loving anything in print.
The Education Solutions Provider in integrated curriculum supported by digital classroom solutions offering fun learning experiences for children.
Redefining Design Thinking @ Atal Tinkering Labs, they are here to make learners apply their learning in real-time with cutting-edge concepts, making them creators and architects of a sustainable future.
Redefining the KG curriculum, our knowledge partners transform classrooms to thinkrooms awakening the human potential in every child thereby impacting the education ecosystem.
Life-skills trainers empowering the lives of children with self-realisation experiences supported by high self-esteem, powerful life principles and values that create lasting positive impact in their lives.
Our superlative infrastructure partners make everyday a happy, healthy and safe learning experience for our kids across campuses.