ATAL TINKERING LAB
Flagship Project of SVM (ATL)
Nurturing the scientific temperament in our young and curious minds, we boast of a work space to give shape to their ideas at Atal Tinkering Labs, established by Atal Innovation Mission (AIM), NITI Aayog, to foster curiosity, creativity, design mindset, computational thinking, adaptive learning, physical computing, etc. They experiment with the concepts of STEAM (Science, Technology, Engineering and Math integrated with Arts) with tools and equipment on science, electronics, robotics, open source microcontroller boards, sensors and 3D printers and through hands on DIY mode. Our ATL space kindles the tinkering temper of our children to become innovating pioneers and script "a Great Indian Story" for themselves. 
Our Tinkering Itinerary
Docking….
Inaugurated on July 21st 2018 by Dr. Unnat Pandit, Head of Operations for AIM, the prestigious ATL was set up to nurture the scientific temperament in our students. The ATL is an initiative by NITI Aayog, Central Govt. of India, to create an environment of innovation and creativity amongst Indian students. The flagship program was offered to SVM along with 39 schools in the city, the elite crème la crème ones that strived for holistic development in children with creative skills for social challenges. An exclusive song for ATL was composed by our music team and staged during the inaugural which was appreciated by our eminent guest.
Essential 21st century skills that help in the personal and professional development of students, are imparted through ATL. A sprawling space of 2800 sq.ft. with mechanical, electric and electronic workstations, DIY self-learning spaces and regal robotic kits provided the required makerspace ambiance for our children to experience their scientific foray.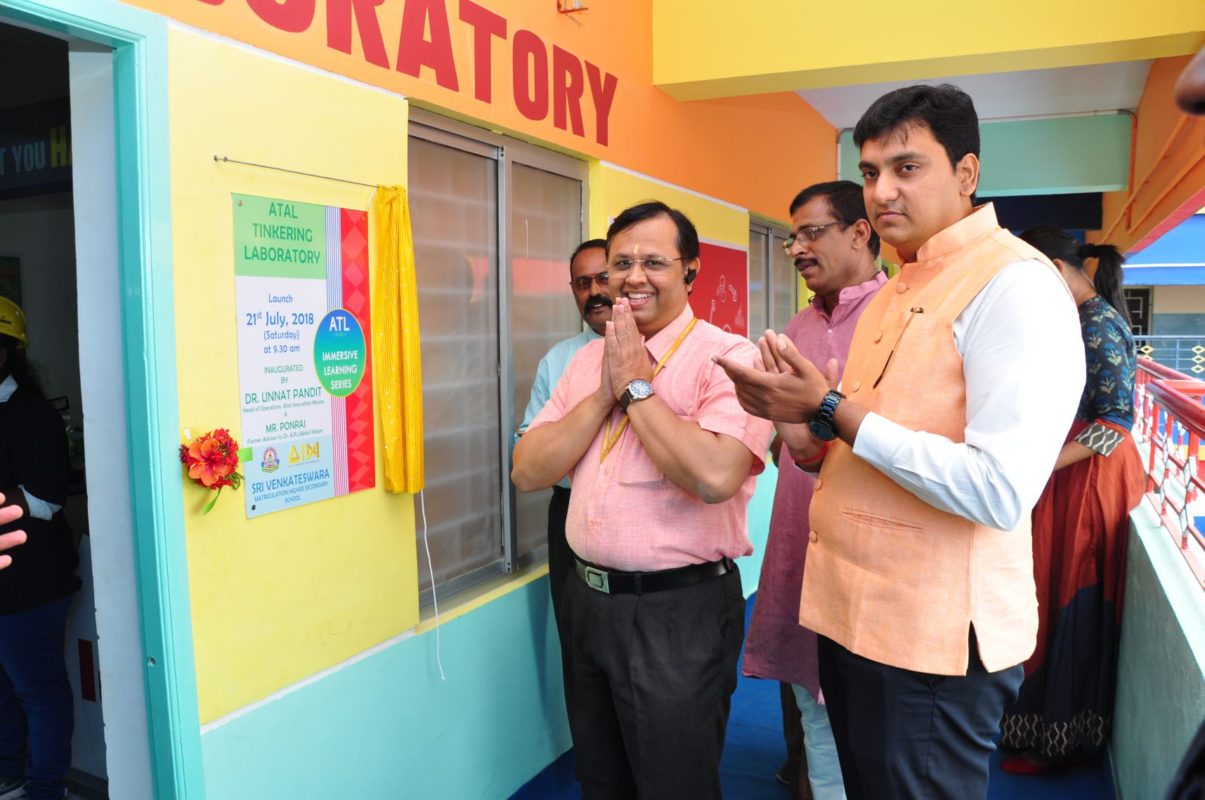 Setting Sail …..
The lab inauguration set The Immersive Learning Series in momentum that brought in eminent scientific resources to the doorstep of our children to make their inquisitiveness surface. It was an opportunity for our young innovators to interact with scientists from various fields, to excel in their creative spaces.
The lab hosted several renowned guest speakers from the science diaspora in the months of July and August 2018, namely Mr. Ponraj (Scientist & former PA to Late President Dr. APJ Abdul Kalam), Mr. D. Suresh (aka) Solar Suresh, Parikshan Charitable Trust Mr. Ariwarasan (Founder, VigyanRath), Mr. Dhanapal (Scientist), enriching our students with their knowledge and expertise, kindling children to immerse themselves in their novel creations.
Anchoring ….
Tinkering is not done at leisure or as an option, it is deemed the way of life. A period for ATL was exclusively imbibed into the daily schedule for all the grades. Periodic workshops for students and trainers, lecture series, teachers training on tinkering skills, community network of schools and trainers are constant activities that our ATL indulges in. Our young tinkerers have designed socially viable and critically acclaimed projects aimed at providing solutions to the global Sustainable Development Goals.
Monthly community activities are held in ATL that provide the opportunity to build a healthy community network of students, public and the school to work towards a progressive society by coming up with feasible solutions for the challenges that exist in the neighbourhood.
Tinkering Fests are organized every month that bring out the creative quotients in children. Science concepts have been simplified using our ATL lab tools and equipment. Matching solutions, designing concepts on a dimensional platform, bringing notions to life using electronic kits are all the activities that children engage themselves in ATL play area.
In the weekly classes, students initially got acquainted with the Tinkering nooks in ATL and also with the components, namely, Breadboards, Resistors, Capacitors, Circuits, Arduino Boards and G-coding
Post these introductory sessions, they were engaged and educated with STEM kits and DIY kits which indulged them in hands-on enquiry based projects.
Post inauguration, periodical training sessions to the mentors and ATL incharge were taken up to acquaint them with innovation and curiosity so that they can guide our student innovators in the right direction.
23.06.2018 – An ATL introductory training was provided to students and trainers by Centrado Tech. A hands on feel of the tinkering components, the stages of innovation, beginning with ideation to design thinking to prototyping were all taken up through interesting activities.
21.07.18- Atal Tinkering Laboratory launched by Dr. Unnat Pandit, Head-Operations at Atal Innovation Mission, NITI Aayog. SVM undertakes the pledge to create young neoteric learners who can come up with sustainable development and viable solutions for social challenges.
14.07.18 – Right from a week prior to the launch, the Immersive Learning Series was launched that enabled student innovators to interact with scientists from various fields, to excel in their creative spaces. Eminent guest speakers address on diverse topics kindling the curiosity element in our children urging them to immerse themselves in their novel creations.
14.07.18 – Mr. Ponraj, former PA to former President Late APJ Abdul Kalam, Mr. Ariwarasan, Founder – Parikshan Charitable Trust's Vigyanrath, Mr. Suresh (aka) Solar Suresh were our keynote speakers in the Immersive Learning Series launch.
16.08.2018 - A tinkering workshop was held for students to enhance and enrich the young minds' innovative and creative ideas. Projects like traffic lights with LED, reading room temperature, ultra sound sensor, lighting up an LED, LED with switches, blinking an LED, etc. shaped up during this workshop
27.08.2018 – A project day for budding innovators was held at ATL that brought several innovations of students to the fore. Projects like smart door systems, farm techno solutions, smart traffic light systems, indigenously made mobile robot, were all part of the display and proved the students mettle in tinkering
25.09.2018 – The ATL Community Day was celebrated with students displaying their projects for their peers and visitors to ATL. Plug N Play LCD Detector, Gravimetric Detector, etc. were the few novel projects in display that made an impact on students.
October 2018 – The Plug N Play LCD Detector was selected the Best Project in Thiruvallur District under the Best Student Innovators program of AIM. The project was the only innovation in Thiruvallur District to be listed in the prestigious program
17.10.2018 -A science fair was held in October 2018 with Mr. Dhanapal, Graduate Teacher, Karur Govt. Boys Hr Sec School and a Science enthusiast which proved fruitful for our young innovators
A community workshop was conducted on October 15th and 16th, 2018 for students in ATL
November 2018 – ATL School of the Month in Thiruvallur District
December 2018 – ATL School of the Month in Thiruvallur District
12.01.2019 - The Innotribe Conclave (an inter-state Tinkering fest)
It was a new dawn in the horizon of tinkering. The state-level tinkering contest Innotribe Conclave Out of the Box challenge was conducted by SVV through our ATL in which more than 300 schools in TamilNadu participated. The event was co-partnered by Atal Innovation Mission, The Hindu daily and The Institute of Engineers. 51 teams made it to the finals which was held at the SVV campus and the valediction at the newly inaugurated world-class Rangammal Auditorium. The highlights of the grandest tinker celebration in the city are :
The Innotribe Conclave was presided by Major Harsh Kumarji, Secretary-NCERT, New Delhi, who gave away the total cash prize of Rs.20,000/- to the top 3 winners of the conclave.
The galaxy of excellence at the conclave included Dr. Atmanandji, the Director of National Institute of Ocean Technology (NIOT), Dr. Venkatraman, Director of HSEG IGCAR and Dr. Narasimhaswamy, Sr Scientist & Head PS&T CLRI
The eminent jury at the tinkering conclave comprised of diverse expertise, namely, BAARC, CSEG (AU), Anna University, King's Institute, ICMR, Vignana Bharathi, CECRI & SRMC
The first prize was bagged by the team from SBIOA, Trichy. The 2nd prize winner was NPS International, Chennai and the 3rd prize winner G.K.Shetty Vivekananda Vidhyalaya, Chennai.
Special prize winners at the conclave were Govt. Girls HSS, Avadi for their vertical parking project, Maharishi Vidhya Mandir Polachery for Piezo Electric Treadmill and Sri Venkateswara MHSS for Motorised Cycle
Special jury prizes were awarded to SVV Smart Irrigator and Knock Door lock security system
The Best Participating School award was given to Apex Pon Vidhyashram, Chennai, Passionate Participator award to SBIOA, Trichy, Efficient Team Participation to SVMHSS, Maximum Entries given by a school award to G.K.Shetty Vivekananda Vidhyalaya school and the Young Innovators Team award to Sri Venkateswara Nursery & Primary School
15.02.2019 - Community Day was held in which a workshop on the 3D printer by Centrado Tech was conducted in ATL which had around 70 students participating in it. Nuances of the printing technology, hardware and software, were elaborately presented to the sculptors of solutions
22.02.2019 - Fun tinkering with Mr. Ariwarasan, the Founder of Parikshan Charitable Trust and the driving force of VigyanRath, took our children's learning beyond engaging them in fun science experiments. The workshop gave students a different perspective on scientific experiments that involved real-life situations
Ariwarasan has conducted several workshops for our children on varied science topics with application oriented experiments that foster STEAM learning, taking them beyond the subject
15.04.2019 - As part of Community Day, an orientation of tinkering was held for children of grades V-VII nurturing these young minds to think in tinkering terms
The Community Day celebrations also provided an exclusive insight into Arduino and Analog Programming for grades VIII – XII students. The module was an eye-opener for aspiring tinkerers
16.04.2019 - As part of the Community Day, our students came up with a working prototype of an EVM (Electronic Voting Machine) and invited the public to take part in a mock Election Day held in the campus. Many voters turned up with their Voter ID cards and took part in the mock voting which served as a forerunner for the upcoming Parliamentary elections in May 2019. The ATL volunteers also engaged themselves in promoting 100% voting in the constituency promoting citizen's responsibility.
21.06.2019 - The academic year of 2019-20 bloomed in June 2019 with a mentoring session by Mr. Ariwarasan who enlightened our students with science concepts that would pay way for their innovative and creative skills
21.07.2019 - TinkerFest 2019, a festival celebrating the first birthday of ATL at SVM, was held from 10.07.2019 to 21.07.2019 for students to revel in science and its concepts with relation to tinkering and innovation. The 10-days camp was fun for students as they were given hands-on experience in designing projects, creating their prototypes, etc. Socially viable projects such as water overflow alarm, a touch detector circuit, etc. were displayed by children at the end of the camp. The fair was witnessed by prospective tinkerers of SVM and SVV
August 2019 -We were again elected "ATL School of the Month" in August 2019 with our innovative Drone project – Ajna
10.09.2019 - Science teachers of Sri Venkateswara Group of Schools had a great learning experience in their mentoring session with Scientist Mr. Ariwarasan. It was an enrichment aimed at teaching science concepts and experiments in the classroom with fun activities that would satiate a heterogeneous mix of students
12.09.2019 - SVM ATL proudly hosted the Stage 1 District Level selection process of TamilNadu Ilam Innovators Challenge 2019 (TNIIC) in September 2019. The event was conducted by EDII-TN and School Education Department, TN. The Chief Educational Officer of Thiruvallur District (CEO) Tmt. Thiruvalarselvi inaugurated the event with 13 teams from the district participating to make it to the 2nd Stage. The presiding guest was given a protocol Guard of Honour by the school RSP. In her inaugural address, the Chief Guest inspired the participants to become future entrepreneurs through innovative and creative aspirations. 3 school teams were selected for Stage 2 which is a 4-day camp held for design thinking and prototyping projects.
Top 3 schools in Thiruvallur district at TNIIC 2019:

Sri Venkateswara MHSS (Host), Ambattur, Ch-58
SBOA School & Junior College, Annanagar
Jaya Matric Hr Sec School, Thiruninravur
TNIIC 2019 event was conducted by the District Captains of TNIIC and partnered by Infinite Engineers, Warhorse, Madiee Board Games, Getset Ventures, The Pi Jam, e-Cell of IIT-M and SP Robotic Works
08.11.2019 - An inspirational insight into EDAR, the learning app that was based on augmented reality, was provided to the students of SVGS by Centrado Tech. Children got to interact in person with Mr. Yashwanth, the IIT-ian and the brain behind the app
28.01.2020 - Unbox Tinkering, the 4-day state level ATL Teacher Training Workshop was inaugurated on 28th January 2020 at SVM ATL. Delegates from more than 50 schools participated in the program. The highlights of the workshop were:

Day 1 was graced by Mr. Shashank Gore of NITI Aayog who gave a wide perspective to matters related to PFMS (Public Fund Management System), NITI Aayog and AIM
Days 2 and 3 were filled with engaging activities that were lined up to foster design thinking and ideating among the trainers
Day 4 had the projects developed by the trainers displayed with their presentation and the valediction was held in the afternoon in which the participants received their certificates
ATL Star School listing in June 2020
Our Accolades at ATL:
ATL School of the Month Award for 3 consecutive months in 2018 and 2019.
ATL Star School listing in June 2020. Enthusiastic participation in ATL related and AIM related activities by our student innovators has garnered rave accolades for the school ATL.
Regulars at IGNITE & INSPIRE contests, 6 of our students won the regional Vidyarthi Vigyan Manthan contest, a national program for identifying the bright minds in student community, and participated in the State-level camp. Various projects have been designed by our young tinkerers which have attracted the industry to sponsor for prototypes and make them commercially viable.
To foster inventiveness, our students participate in different activities ranging from regional and national level competitions, exhibitions, workshops on problem solving, design thinking and fabrication of products, lecture series, etc. at periodic intervals.