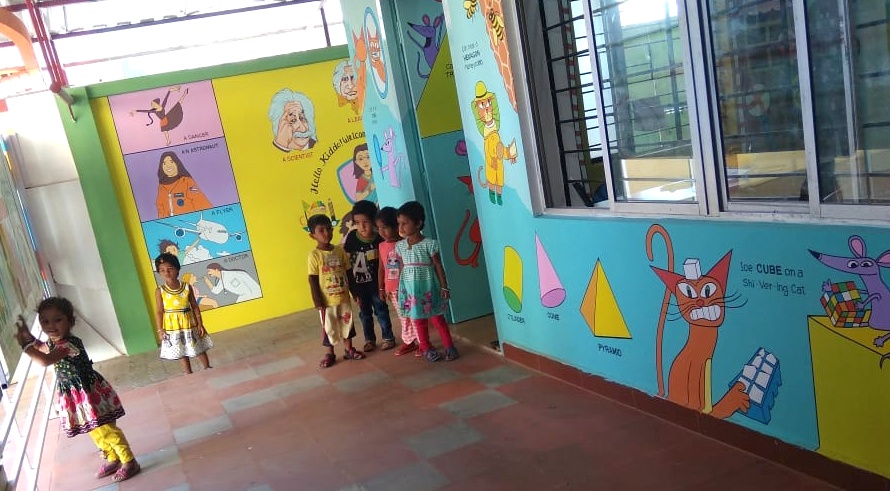 SV Play School's focal point is on the key development areas of children, namely, literacy, numbers, phonic awareness, environment and communication. We offer the youngest learners a unique Early Childhood Program designed to prepare students cognitively, socially and physically for an effortless transition to kindergarten and beyond. 
The programs in offer for early learners are :
Pre-School (Age group : 2.5-3.5 years)

Timing : 9.00am-12.30pm
We engage them with stories, integrated activities, Unique Me classes, synchronized art, social behavior mapping, Clean Me act, neighbourhood awareness, Mood handling, Montessori activities and a lot more for their developmental needs
Day Care (Age 1.5-2.5 yrs)

Timing : 2 batches
The facility engrosses young learners with activities that refine their Fine motor & gross motor skills and introduce them to pre-math concepts, alphabets, numbers, non-verbal comprehension, identification exercises, personal awareness and emotional hygiene with focus on initiating speech
We operate in 2 batch timings of 8.00am to 4.30pm and 8.00am to 6.00pm. The toddler program is included in both the batches
Toddler Program (Age Group : 1.5-2.5 yrs)

Timing : 10.00am – 12.30pm
A comprehensive program that emphasizes sensory stimulation in toddlers. Our inclusive program motivates hand-eye coordination, eating etiquettes, potty training and social awareness through a wide –range of Montessori activities that comprise Expression series, sharing & caring values, sorting series, rhythm & creative movement and spatial recognition. Our primary aim is to develop a love of lifetime learning in toddlers and shape their intrinsic skills.
After-School Care (Age 4 yrs and above)

Timing : 4.00-6.00pm
An opportunity to relax, play and learn in a supervised safe environment, we provide reading assistance, academic assistance and soft-skills nourishment through after-school programs in handwriting, oratory sessions, etc. This program is a subset of their full day that begins after 4pm